Welcome to Our Virtual Art Gallery!
Click on an artwork to learn more about it and the artist(s).
Trans Liberation Is Beautiful
Exhibition Statement: Trans Liberation Is Beautiful
"When Black trans women get free, we all get free."
—Miss Major Griffin-Gracy
Every Pride is bittersweet. We celebrate our trans beauty and our long history of resistance, while we continue to struggle with white supremacy and transphobia within LGBTQ communities. In hyper-gentrified Los Angeles, where trans people of color struggle to afford housing, attending Pride means risking assault, incarceration or deportation from cops wearing rainbow flags.
There can be no pride for some of us without liberation for all of us.
Trans women and femmes of color are the mothers of the trans and queer liberation movement, but they continue to face an epidemic of violence and oppression. We must build a world where the lives of people like Marsha P Johnson and Sylvia Rivera—sex workers, disabled, homeless, Black and Brown trans women—matter. We must support them to live and lead in life and not just in memoriam. Or as the group BreakOUT! says: "Give us our roses while we're still here!"
This art is our attempt to imagine that world. All the work in this show is created by trans and nonbinary artists. It is deeply rooted in relationships of love and solidarity between artists and organizers in movements for racial and trans justice. Many of these pieces are part of ongoing national projects, including the Trans Day of Resilience art project.
This art has amplified our struggle, in the streets and online, as we have grieved the murders of our trans sisters, fought to free our siblings from prisons and immigrant detention centers, and reclaimed events like Pride. We pledge ourselves to fighting for a world where we all have an equal chance to survive and thrive—a world that treasures trans and nonbinary people of color.
"Trans resistance is beautiful."
—Micky Bradford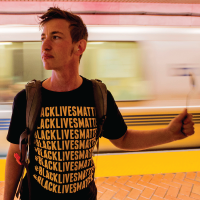 CURATOR
Micah Bazant is a trans visual artist who works with social justice movements to reimagine the world. They create art inspired by struggles to decolonize ourselves from white supremacy, patriarchy, ableism, and the gender binary. Micah is a white anti-zionist jew and identifies as trans, nonbinary, and timtum (one of six traditional jewish gender categories). They make art as a practice of love and solidarity with trans liberation and racial justice movements to build power. Micah is currently the Artist in Residence at Forward Together where they helped start the Trans Day of Resilience art project.