A PLACE TO STAY
Gallery exhibition, curated by Pau S. Pescador
Trans Pride LA 2023 proudly Presents A PLACE TO STAY, a gallery exhibition curated by Pau S. Pescador on display at the Advocate & Gochis Galleries located at the The Village at Ed Gould Plaza during Trans Pride LA 2023, and beyond!
Gallery opening is on Friday June 16 at 7:30pm, and will remain on view June 16 – July 8.
ACCESSIBILITY: Presented in-person at the gallery located at 1125 N McCadden Pl, Los Angeles, CA 90038. Gallery is on the first floor and is handicap accessible.
A PLACE TO STAY CURATOR STATMENT
A PLACE TO STAY is a group exhibition of nine Los Angeles artists whose selected works focus on themes of respite and themes of shelter. In the past year, a record number of laws have been introduced throughout the United States discriminating against transgender individuals. Laws as such, though disturbing, are not unprecedented, and speak to the challenges that LGBTQIA+ people have faced. The artworks in this exhibition echo the strength individuals in our community have by developing havens for themselves in times of adversity, whether this be through community or more internal havens, such as intimacies with others or reflections with themselves and their own bodies.
The title of the exhibition was inspired by a quote by trans activist Marsha P. Johnson, who, with Sylvia Rivera, co-founded Street Transvestite Action Revolutionaries (STAR), an organization dedicated to sheltering young transgender individuals who were shunned by their families. "I'll always be known [for] reaching out to young people who have no one to help them out, so I help them out with a place to stay or some food to eat or some change for their pocket. And they never forget it."
A PLACE TO STAY will include a catalog of short texts and poems from trans writers throughout the country reflecting upon these themes. Writers include: Hannah Baer, Mattlida Bernstein Sycamore, Angel Dominguez, Kay Gabriel, Cecilia Gentili, Raquel Gutiérrez, Coyote Park, and Emji Saint Spero.
Click the + under each artist's name to learn more about their careers, and follow them on social media, and websites!
Artists featured in A PLACE TO STAY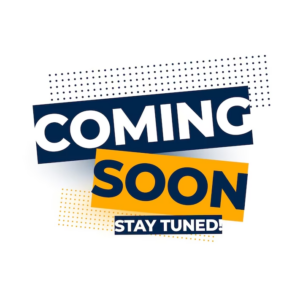 Pippa Garner (she/her) is an artist and author based in Long Beach, California. For more than five decades her cross-disciplinary practice of drawing, performance, sculpture, photography, video, and installation has continued to push back against systems of consumerism, marketing, and waste. Recent solo exhibitions include, Act Like You Know Me at Kunstverein Munich (2022), Kunsthalle Zúrich (2023), and FRAC Lorraine, Metz (2023); Immaculate Misconceptions at JOAN, Los Angeles (2021) and Verge Center for the Arts, Sacramento (2022); The Bowels of the Mind at STARS, Los Angeles and Jeffrey Stark, New York (both 2021); and A Shadow of My Future Self at O-Town House, Los Angeles (2019). Her solo exhibition $ell Your $elf opens at Art Omi this coming June. Her work will also be included in the Hammer's, Made in L.A., 2023 Biennial, Acts of Living.
IG: @misc.pippa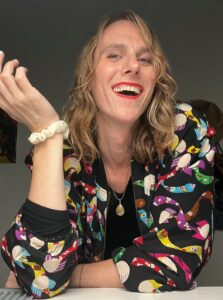 Patty Gone (she/they) is a poet, performer, video artist, and scholar. She is the author of Love Life (Mount Analogue, 2019), and her writing has appeared in publications including The Believer, Art Papers, Hyperallergic, Howlround, Boston Review, and jubilat. She has performed or been exhibited at the Queens Museum, The Poetry Project, Smack Mellon, Human Resources, and REDCAT, and her work has received support from Mass MoCA, NYU, Northampton Open Media, and Bemis Center for Contemporary Arts. Her current PhD research in Performance Studies at UCLA traces how trans-feminist aesthetics from the late 19th and early 20th centuries were co-opted by the straight mainstream.
She lives in Los Angeles and asks you to protect and support trans kids.
IG: @patty.gone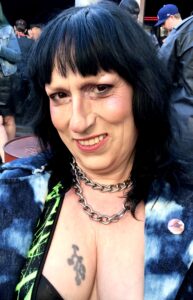 Page Person (she/her) born in 1972 in Atlanta, is a visual and performing artist based in Los Angeles. In 1996 they received a BFA from The Atlanta College of Art. Under their previous name their drawings and paintings were represented by Peres Projects (Los Angeles and Berlin), Deitch Projects (New York) and Stuart Shave/Modern Art (London), as well as being included in exhibitions at The New Museum (New York), DESTE Foundation (Athens), and The UCLA Hammer Museum (Los Angeles).
Their work has been reviewed in numerous publications including Frieze, Flash Art, Artforum, The Believer and The New York Times. Coming out as trans alienated them from the art world; they took the name Person in 2017 and began performing in queer nightlife spaces such as Exposure Drag, Queer as Punk and Club sCum; ultimately putting together a monthly show called PUNXURE. In 2021 they mounted "I AM A PERSON", their first solo exhibition in ten years at the home of Elliott Hundley. Currently their practice has expanded into performance art spaces such as Navel, Human Resources, 2220 Arts, and The University of Southern California. In 2021 they produced the transcentric performance program "TIPPING POINTS" at LAXART to question the boundaries between queer performance and the established art world.
IG: @page__person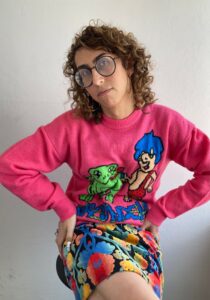 Pau S. Pescador (she/they) was born in 1983 and is a contemporary trans fem nonbinary artist who works in film, photography, and performance that lives and works in Los Angeles, California. She graduated with an MFA from University of California, Irvine and a BA from University of Southern California. Select exhibitions and screenings include: UV Estudios, Buenos Aires; Biquini Wax, Mexico City, Institute of Contemporary Art, Los Angeles; LADRÓNgalería, Mexico City; Los Angeles County Museum of Art, Los Angeles; Main Museum, Los Angeles, The Pit, Glendale; 18th Street Art Center, Santa Monica; 5 Car Garage, Santa Monica; gallery1993, Los Angeles; Coastal/Borders, Getty Pacific Standard Time: LA/LA at Angels Gate Cultural Center; LAND at The Gamble House, Pasadena; Marathon Screenings, Los Angeles; Vacancy, Los Angeles; Ashes/Ashes, Los Angeles; Park View, Los Angeles; and Human Resources, Los Angeles. Select performances include: Machine Projects, Los Angeles; Los Angeles Contemporary Archives; Performa 2015; Colony, New York; UC Berkeley: Durham Studio Theater; PAM, Los Angeles; Hammer Museum, with KCHUNG TV, Los Angeles; REDCAT, Los Angeles; Guggenheim Gallery at Chapman University, Los Angeles; and ForYourArt, Los Angeles. Her first collection of writing, CRUSHES: A NOVELLA, was published by Econo Textual Objects in Spring 2017.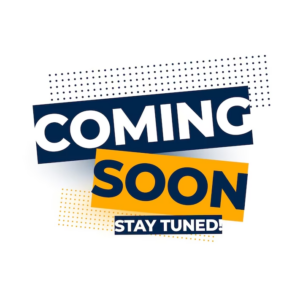 Marval A. Rex (he/him) is a LA- based transmasculine, first-generation American actor, artist, director and cultural producer. Rex also identifies as a guerrilla ontologist and interdisciplinary provocateur. Rex has directed, produced and performed in genre-bending live artworks and films since 2015. His first experimental film "Man, and Me" toured internationally in 2016. In 2019, he was listed as an "LA Art Star" in Los Angeles Magazine. In 2020, Rex hosted a solo show in Los Angeles with support from LAST Projects Gallery, showcasing ceramics, paintings, and performances. Rex has produced and acted in numerous indie projects and, in 2021, acted in a principal role in a soon-to-be-released Discovery network show. He is currently performing live works and shopping multiple TV properties, including a groundbreaking show about a transman werewolf who falls in love. Rex has received generous support from the California Arts Council, USC Roski, the One Archives, DFBRL8R Gallery, Columbia University, and Prosjektskolen Art School in Oslo.
IG: @marvalarex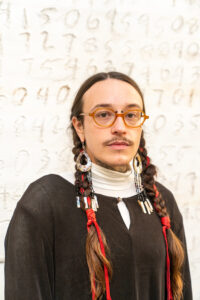 Miller Robinson (it/its/itself) is a trans gender non-confirming two-spirit, avansahiichva, transdisciplinary Karuk/Yurok artist based in Los Angeles, CA. Since receiving a BFA from Otis College of Art and Design in 2014 Miller has exhibited widely in Los Angeles including at Craft Contemporary, Southwest Museum of the American Indian, Los Angeles Municipal Art Gallery, Heritage Square Museum, with Los Angeles Contemporary Exhibitions (LACE), and at the Green Family Art Foundation in Dallas, Texas.
It's a current fellow in the Queer|Art|Mentorship program working with artist Jeffrey Gibson and were a recipient of the 2022 Los Angeles Artadia Award.
IG: @millerrobinson
Sammie Veeler (she/her) is a Los Angeles based artist examining the problematics of digital representation, the role of archives in the production of personal and shared histories, and the psychic transits between physical and virtual spaces. Her work takes the shape of undulating loops in time playing out across writing, performance, digital media, and world building.
Zoe Walsh (they/them) (b. 1989, Washington D.C.) received their BA from Occidental College and MFA from Yale University. They have held solo exhibitions at the Fondation des États-Unis (Paris), M+B Gallery (Los Angeles), and Pieter (Los Angeles, CA). Walsh's work has been exhibited nationally and internationally in group shows at USC Fisher Museum of Art (Los Angeles, CA), Atkinson Gallery (Santa Barbara, CA), Peppers Art Gallery (Redlands, CA), Felix Art Fair, M+B (Los Angeles, CA), Usdan Gallery (Bennington, VT), La Maison des Arts (Malakoff, France), Alfred University Fosdick-Nelson Gallery (Alfred, NY), and PM/AM (London, UK). Walsh was nominated for the prestigious Emerging Artist Grant from Rema Hort Mann Foundation, and they were awarded the Al Held Foundation Affiliated Fellow at the American Academy in Rome. Their paintings have been written about in Art Matters, What's on Los Angeles, Cultured Magazine, Vice, LA Weekly, The Occidental Weekly, and Lum Art Zine. Zoe Walsh lives and works in Los Angeles.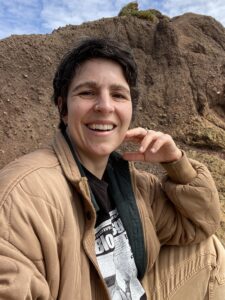 Ryat Yezbick (they/them) My practice is highly interdisciplinary and research based. As a former cultural anthropologist, I use qualitative research methods to investigate U.S. cultural relationships to witnessing, group identity and contemporary morals in the era of digital surveillance and decentralized global conflict. However, unlike cultural anthropologists, I figure my experience centrally in my work, rooting these themes in a complex set of questions around security, home, gender, family, love, violence, power, and responsibility.
My work stems from my experience as a non-binary, transmasculine Arab-American person raised in a Charismatic (Pentecostal) Catholic church in Ann Arbor, Michigan. As a child, I often felt confused about my simultaneous desire to belong and the distinct feeling that I was not of the community. I learned to perform a position in order to fit in with the group for fear I was being watched by a wrathful god. God was my first encounter with surveillance technologies. My experiences led me to examine the ways in which people on the margins aesthetically take on and perform the moral majority within their communities as a kind of "threat management" strategy. I explore the costs and benefits of these strategies in my practice through live performance, experimental documentary and installation.
I am also a published author, multi-time grant recipient, organizer, facilitator, and arts consultant for institutions and universities. I obtained my MFA from CalArts and am affiliated with the Guild of Future Architects. My work has been exhibited in solo exhibitions in Los Angeles, Melbourne, Glasgow, and Athens, and in notable group exhibitions and performances at the Los Angeles Philharmonic (Los Angeles), REDCAT (Los Angeles), Materials & Applications (Los Angeles), Human Resources (Los Angeles), The Akademie Schloss Solitude (Stuttgart), The Indianapolis Museum of Contemporary Art, Glasgow International 2018 (Glasgow), The Banff Center for the Arts and Creativity (Banff), Gertrude Contemporary (Melbourne), Space One (Seoul), the Bangkok Biennial MAHA Pavilion (Bangkok), LAXART (Los Angeles), Craft Contemporary (Los Angeles) and the Queer Biennial (Los Angeles).
Official Sponsors: Comcast NBCUniversal, Happy Hippie Foundation, & Tito's Handmade Vodka
Supporting Sponsors: Angel City FC together with their founding partner Heineken, ADP, Inc, Greater L.A. REALTORS®, & Perrier®
Media Sponsor: The FIGHT Magazine