SYZYGY
Gallery exhibition, curated by Marval A. Rex
Trans Pride Los Angeles 2022 proudly Presents SYZYGY, a gallery exhibition curated by Marval A. Rex on display at the Advocate & Gochi Galleries located at the The Village at Ed Gould Plaza during Trans Pride LA 2022, and beyond!
Gallery opening is on Friday June 17 at 8:30pm, and will remain on view fro the month following Trans Pride.
ACCESSIBILITY: Presented in-person at the gallery located at 1125 N McCadden Pl, Los Angeles, CA 90038. Gallery is on the first floor and is handicap accessible.
SYZYGY CURATOR STATMENT
SYZYGY, curated by Marval A Rex featuring an interdisciplinary cornucopia of artworks from Cade Moga, D Hill, Emily Lucid, Van Jazmin and Yozmit. The works in SYZYGY speak to each artist's delight in collapsing paradoxes and expanding notions of how inter-dimensional the self can be! This year's showcase celebrates how art-making in and of itself can be an answer to the inherent contradictions of embodiment, blasting open rigid definitions of selfhood and bridging polarities with an effervescent glee.
SYZYGY: conjunction, yoked together, denoting "close union", mean a union of opposites or union of paradoxes, a collinear configuration of three celestial bodies
MULTIPLICITY: similar to syzygy, but that a singular being can contain many, many things and IS many things
BEING SINGULAR-PLURAL: the fundamental argument of the book is that being is always "being with," that "I" is not prior to "we," that existence is essentially co-existence.
Nancy suggests, however, that we are not simply singular. We are singular plural. We live in a world with over seven billion individuals, not only people within our families and communities, but also with individuals who exist on the other side of the planet, people who may differ from us–or share with us–age, gender, ethnicity, nationality, interests or values–any number of characteristics we use to help describe ourselves and others. Each of us is an individual, a singularity, among this vast plurality.
Our singularity, because it is also plural, need not cut us off from the world or from each other. We exist together—as a society, as human beings in smaller and larger groups and communities, constantly mingling, moving past and around each other.
Click the + under each artist's name to learn more about their careers, and follow them on social media, and websites!
Artists featured in SYZYGY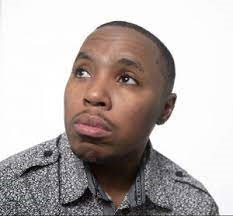 D Hill (he/him) Channeling the hypersexualized media advertising of the 1980s, artist D. Hill presents the state of trans sexuality from a female perspective through the juncture of sex, beauty and gender. D. Hill received his MFA in Creative Photography at California State University, Fullerton. As an interdisciplinary artist, his work surveys identity through cultural and/or gender lens. His work has been exhibited at venues such as Lift Gallery (Greensboro, North Carolina), Orange County Center for Contemporary Art (Santa Ana, CA), 57 Underground and dA Center for the Arts (Pomona, CA), City of Brea Art Gallery (Brea, CA), LA Phantom Galleries (Long Beach, CA), For Your Art Gallery (Los Angeles, CA), and Tarrant County College in Dallas, TX. He lives and works in Orange County, California.
IG: @cool_moe_d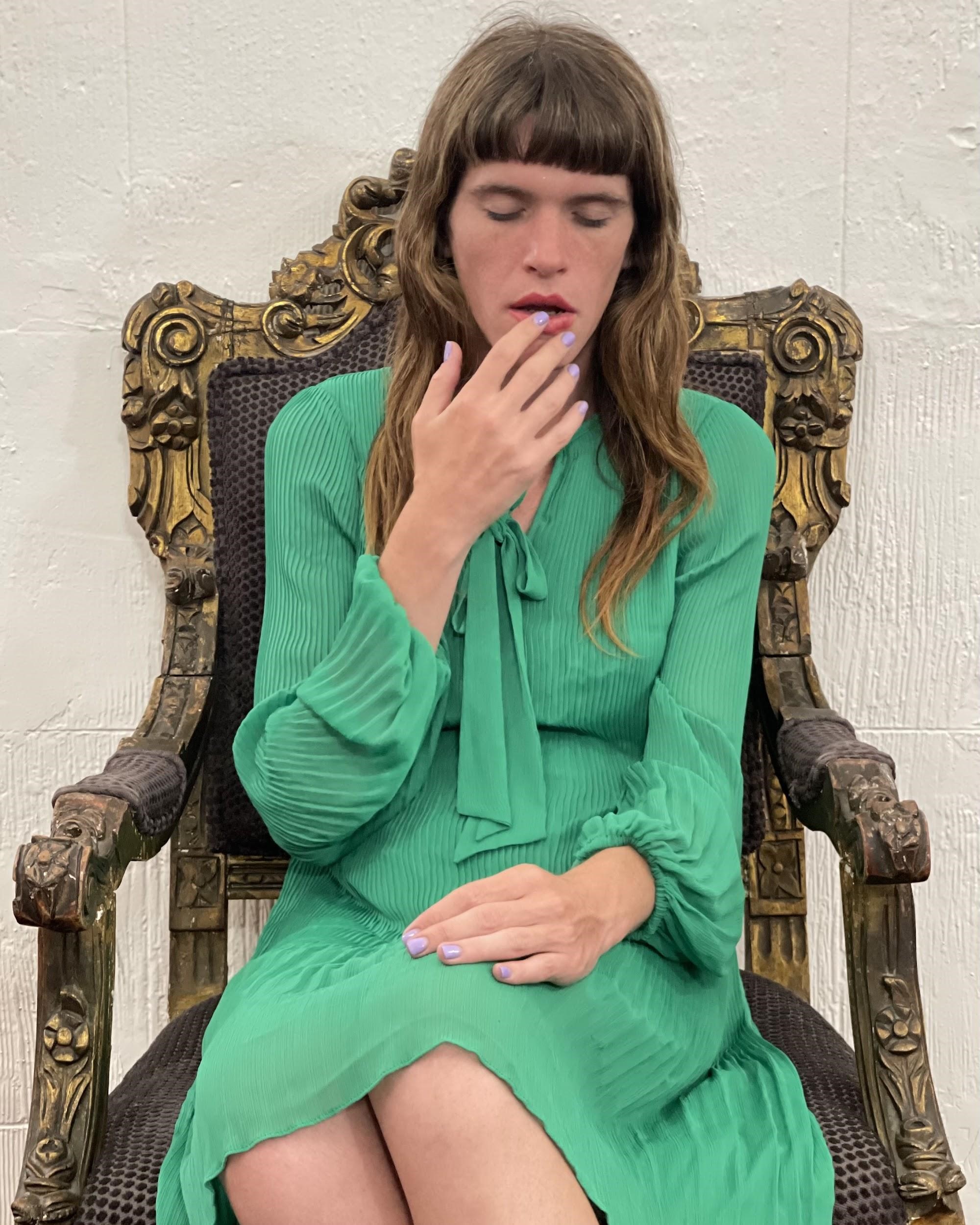 Emily Lucid (she/her) is a San Francisco born and Hawaii raised, Jewish trans female artist. A graduate of The California Institute of The Arts, she is an interdisciplinary artist, musician and actress currently residing in Los Angeles. Lucid's work deals with her interest in gender, technology and beauty. She has performed and exhibited internationally.
IG: @ms.lucid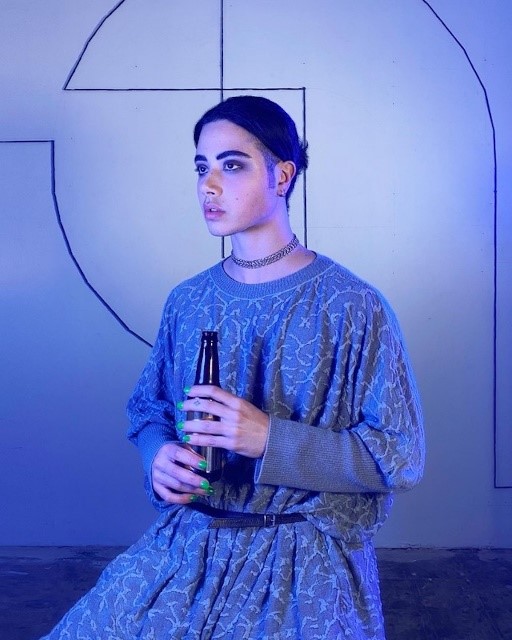 Cade Moga (they/them) is a Situationist narrator working across film, poetry, installation, and performance. Born and raised in Brazil, Cade migrated to LA in 2010 to attend Otis College of Art & Design where they earned a BFA. Cade continues probing for authenticity. Influenced by queerness in Gothic Horror novels, Body Horror Cinema, and Magical Realism in South American Literature, Cade strives to participate in re-defining what we now know as feminism. Cade has been involved in performances, art installations, and panels at REDCAT, Broad Art Center, The Standard, Navel, Coaxial Arts Foundation, Soho House, Complex, The Lash, Non Plus Ultra, California Institute of Abnormal Arts, O'Project Space, Last Projects, Nous Tous Gallery, Bolski Gallery, Paul Williams Gallery, Post Gallery, Palazzo Grassi (Italy), Rose Lipman Building (UK), Chimeres space (Greece), Rost (Scotland), Teatro Guaira (Brazil).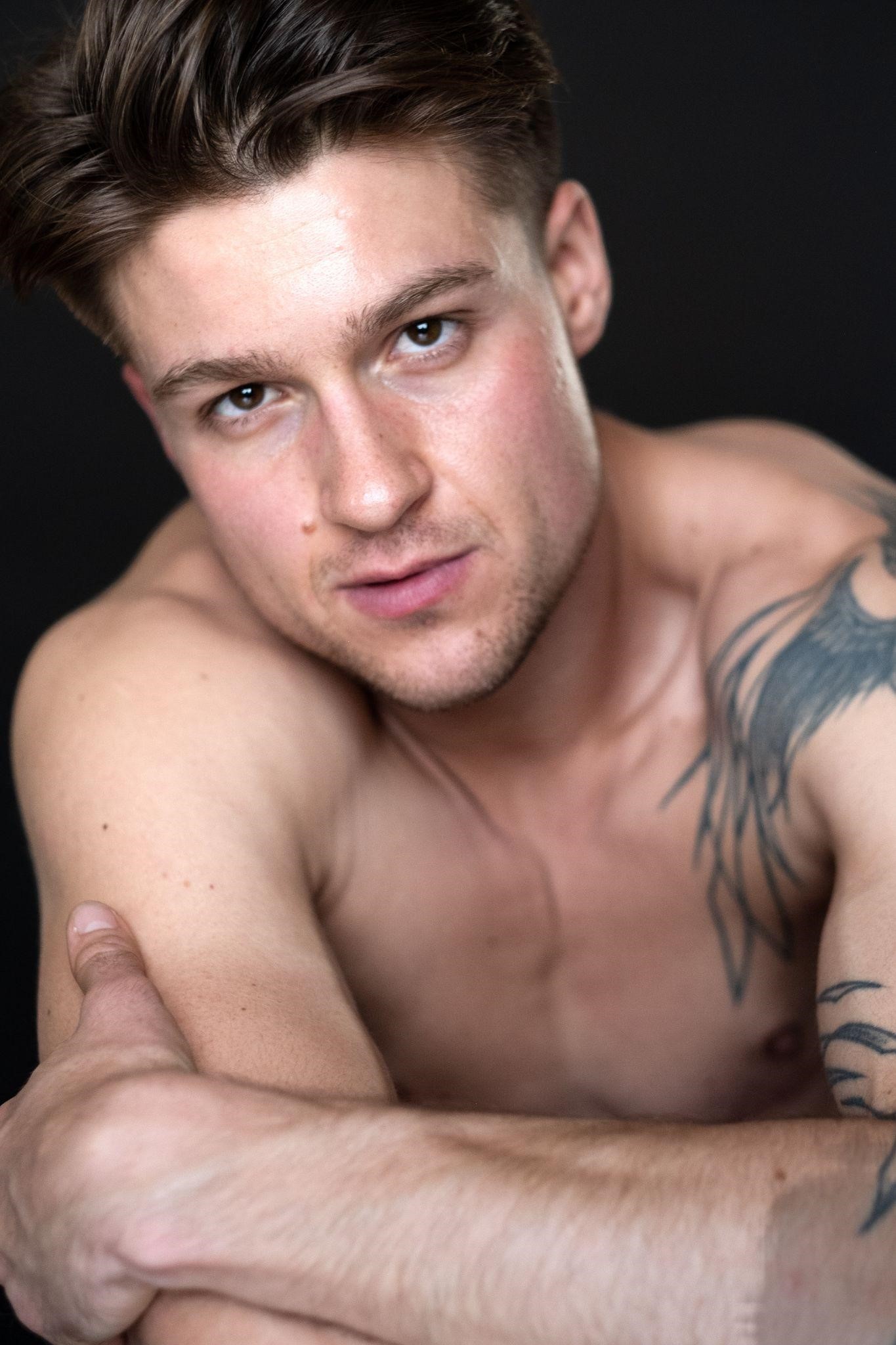 Marval A. Rex (he/him) is a LA- based transmasculine, first-generation American actor, artist, director and cultural producer. Rex also identifies as a guerrilla ontologist and interdisciplinary provocateur. Rex has directed, produced and performed in genre-bending live artworks and films since 2015. His first experimental film "Man, and Me" toured internationally in 2016. In 2019, he was listed as an "LA Art Star" in Los Angeles Magazine. In 2020, Rex hosted a solo show in Los Angeles with support from LAST Projects Gallery, showcasing ceramics, paintings, and performances. Rex has produced and acted in numerous indie projects and, in 2021, acted in a principal role in a soon-to-be-released Discovery network show. He is currently performing live works and shopping multiple TV properties, including a groundbreaking show about a transman werewolf who falls in love. Rex has received generous support from the California Arts Council, USC Roski, the One Archives, DFBRL8R Gallery, Columbia University, and Prosjektskolen Art School in Oslo.
IG: @marvalarex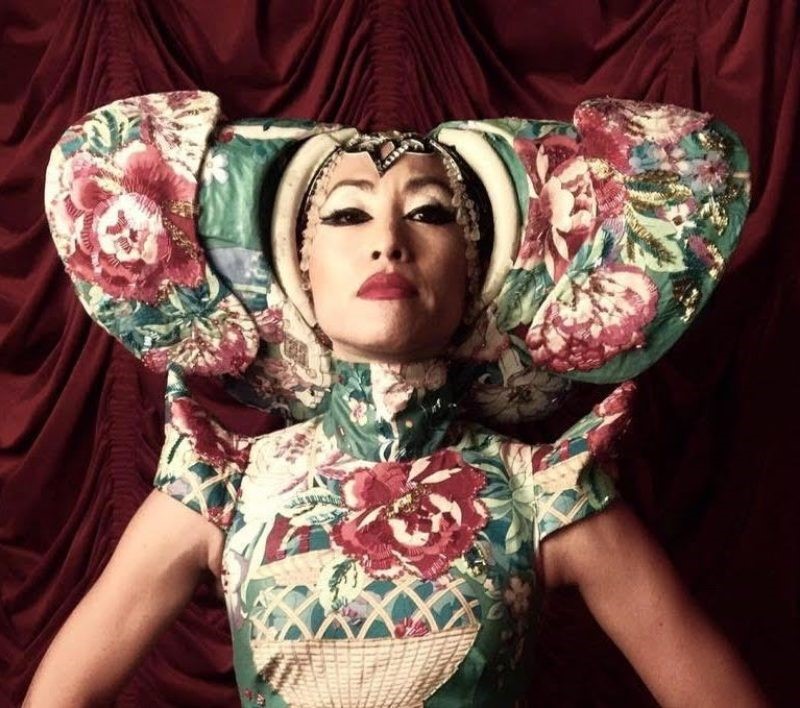 Yozmit (she/her) I am "Yozmit The DogStar", a Transgender performance artist, costume designer, and singer-songwriter.
I use costume, voice, and dance as theatrical/shamanic trinity to tell stories about "Yozmit The DogStar" the goddess archetype who is my higher channel using my male form but embodying both The Sacred Feminine and The Sacred Masculine. In my artistic cosmology, as Yozmit's conduit, I create stylistic looks, costumes, public performances, songs, and workshops to spread her message of *DoYou* – a process of becoming fully self-realized and actualizing self-identity. *DoYou* is my artistic mantra to shift power from external conformity to internal realization.In the US I have shown my work at One City One Pride LGBTQ Arts Festival, Hollywood Fringe Festival, LA ART SHOW, Torrance Art Museum in Los Angeles, and at Queens Museum, Movement Research at The Judson Church, Joyce Soho, and Dixon Place in NYC, internationally I have appeared at Life Ball, Vienna Austria, ChunCheon International Mime Festival, ChunCheon, S.Korea, Doma International Art Festival, Sofia, Bulgaria, World of WearableArt (WOW), Wellington, New Zealand. I performed in Marina Abramovic's "The Artist is Present" at MoMA, 2010. I received multiple "Transgender Initiative" grant from the city of West Hollywood since 2017, and "Cultural Trailblazer" awards from the Department of Cultural Affairs Los Angeles since 2019. As a commercial project, I have performed for Google Quantum A.I. Seminar, Cartoon TV Network, Coachella Music Festival, Burning Man, Sleep No More, Lucent Dossier Experience. I continue to be an international headliner at The Box, NYC and London.
IG: @yozmit
Tierra del Sol
As part of the larger Tierra de Sol Foundation, the Tierra del Sol Gallery exhibits work created in our unique, and innovative art studios. For 30 years, Tierra del Sol's Gallery has propelled countless artists into the world of contemporary art. All sales go directly to supporting the artists as well as Tierra, which provides studio space, career support, and materials for artists to craft their work.
Tierra del Sol Foundation is a not-for-profit founded in 1971. We champion inclusion and value for all individuals with disabilities through creative pathways to employment, education, and the arts.
Visit the Tierra del Sol Gallery website to learn more!
Artists featured from Tierra de Sol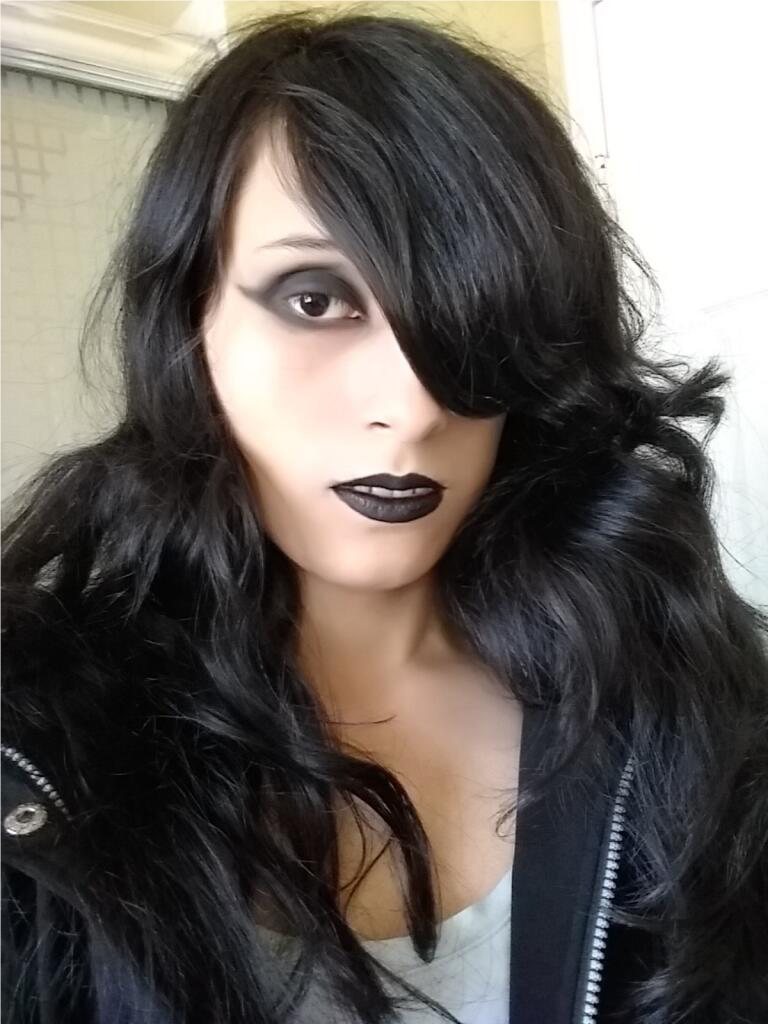 Sucy Ayala (she/her)
, born in 1997 and currently living in Los Angeles, began working in the Careers in the Arts program at Tierra del Sol in 2018. Ayala, an artist with considerable technical skill, is equally engaged in car design and manga-inspired characters. Her subjects are beautifully rendered, meticulously detailed, and can appear to be both seductive and dangerous.
Ayala's cars are sleek and unique, while her cartoon characters express decadence, violence and eroticism. Regarding her artwork Ayala says, "My goal with my art is not to be popular and only sell my stuff as a result of fame but to sell my art because it resonates with viewers."
Statement
My identity issues are so complicated, it's difficult for me to explain. I feel caged in my body, forced by my own biology to feel unwanted and uncomfortable emotions. I deal with trauma, depressing thoughts, and feel like there's opposing personalities in conflict within me. My internal dialog is diverse and multivalent; my personality is inconsistent and fractured. I am a gothic person, with a dark Victorian sensibility. The inner conflict I experience is expressed in my art in the subject matter, the relationship of the figures, the action, the style. I've been influenced by Tim Burton, and the Grimm Brothers and Alice in Wonderland inspired video game, "American McGee's Alice" and the sequel, "Alice: Madness Returns."
Online role-playing scenarios allow me to become an actor in narratives where I can express my inner conflicts and desires. I am drawn to horror, graphic gore, and violence in cartoons and drawings, especially when
coupled with humor or indifference. In some of my work I romanticize and aestheticize horror and violence into my style. My figurative artwork is personal, reflecting the inner me, and my relationship with myself and my girlfriend. The characters in my art are extensions of myself, and my art reveals my true, inner self. I think art should mean something, that an artist
should put blood and soul in it, and that it should be free of pretension and aims of money and approval.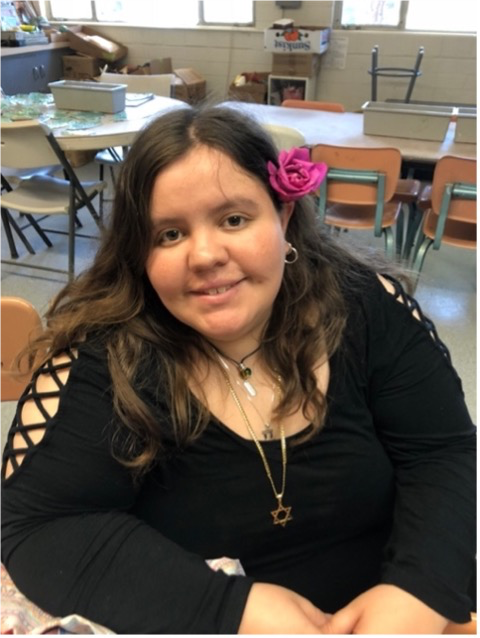 Shaina Barnett (they/them) has worked as a studio artist in the Careers in the Arts program at Tierra del Sol since 2016. Barnett's art is inspired by their passion for Japanese art, autism acceptance, music, and cats. Their paintings, which are influenced by their dreams, the Surrealist movement, their love of musical artists, travel, and Jewish culture, reveal their distinctive visual voice and unique perspective. Their bold and intense color choices reveal the joy they find in their artistic expression. Barnett works to create meaningful pieces that function beyond visual appeal by sharing chapters of their personal story. They were recently published in a group poetry book, "It Makes You Think of Soul Things in Your Mind," a collaboration of writings and art by Tierra del Sol Artists. Of their writings in this collaborative book, "Abuella" speaks of family, love and loss, while the perceptions of people with autism, and the fact that they are not often truly heard are addressed in "So, Listen."
Statement
My name is Shaina but I'm also known as Axl. I'm an autistic adult and identify as non-binary. Art for me has been a lifelong passion and I use it as a vessel to express myself and voice my advocacy for causes I strongly believe in. The majority of my pieces feature a silhouette of a black cat. The cat is a personification of me and how I view and interpret the world. It expresses my identity. We never know the cat's gender. Almost all my "dotillism" pieces that feature the black cats are references to music I listen to and whether intentional or not the messages are the same: music belongs to everyone, regardless of sexual orientation or gender identity. The same goes with art in general. My hope as an artist is to get my message across that we are all human and to make the world a better place for marginalized groups.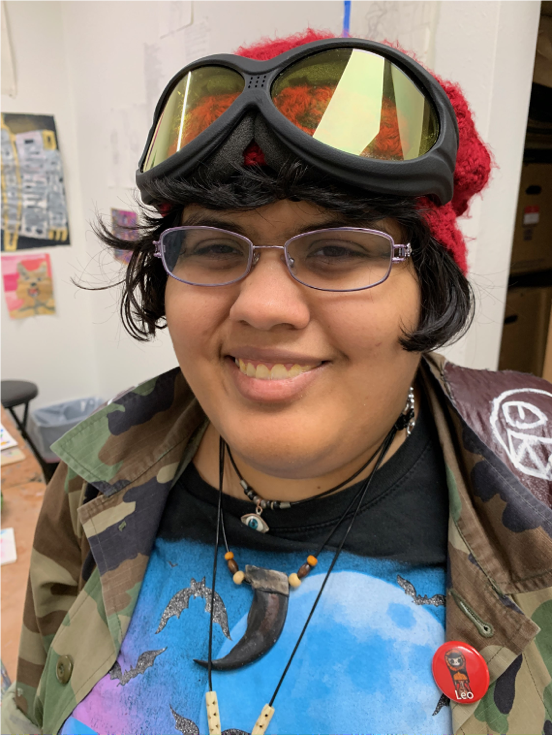 Katie Mendoza (she/her)
, born in 1991 in Pasadena and now living in Ontario, California, began working in the Careers in the Arts program at Tierra del Sol in 2014. Mendoza, an artist of many media, has made drawings and paintings, ceramic sculptures, dolls and other textile works, zines, and stopmotion movies. She is an enthusiastic reader, full of curiosity, and drawn to
surrealism. Mendoza's subject matter is influenced by mythology, the paranormal, and her mood. She finds the creation of imaginative and fantastic works inspiring, therapeutic, and helpful in working with her
feelings. She appreciates and supports optimistic perspectives. Mendoza enjoys working on her many diverse creative projects and hopes to make
artworks that viewers can connect with.
Statement
My mixed media artwork, "It Consumes Me," is a surrealist piece about problems and pain people can have. Surrealism is the best way for me to talk about issues and connect with different people through symbolism and imagery. The reason why I like surrealism is because no matter how vague an issue is, or what the different circumstances are in a person's life, people can still understand the picture, and the picture can unite people in empathy and sympathy. I tried to make a picture showing something that everyone has gone through. Each of us has gone through problems and issues, and even if the specifics are different for everyone, we can all relate to these sensations and feelings. Even if our problems are different, we are still able to connect to each other. We can focus more on our similarities than our differences.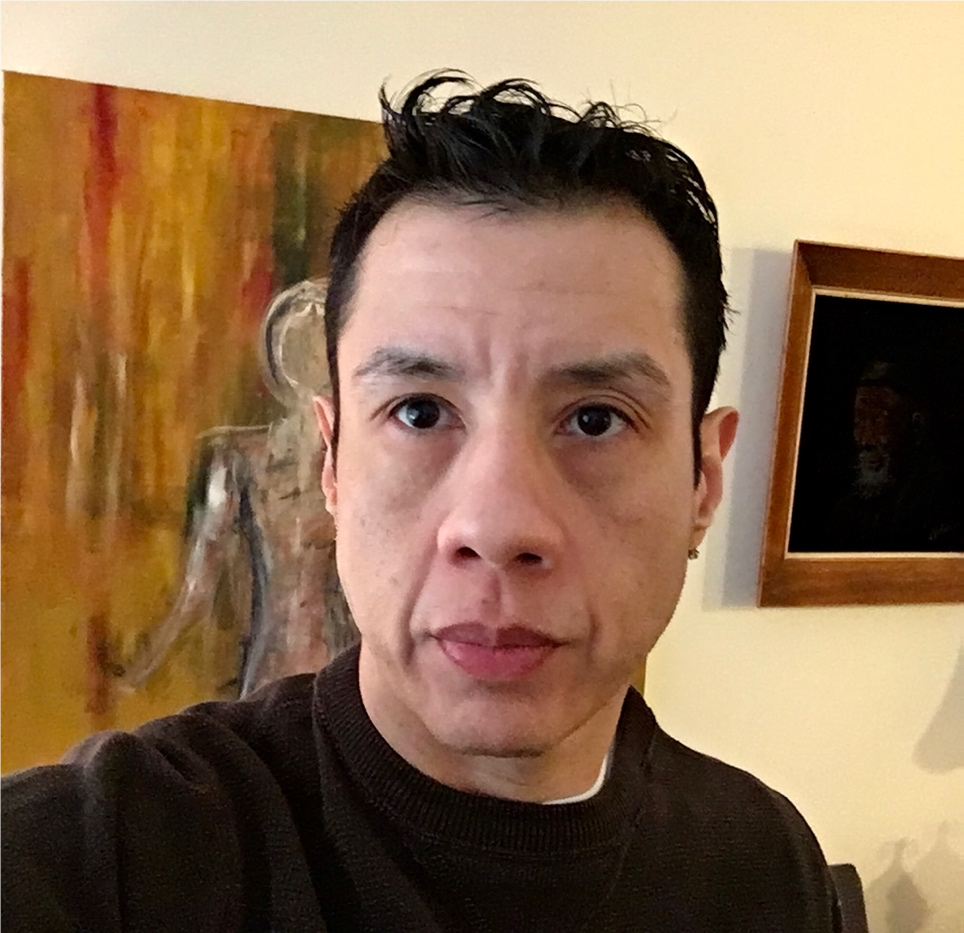 Lexington Sherbin (he/him) began working in the Careers in the Arts program at Tierra del Sol in 2019. Lexington's artwork comes from a place of gratitude and hope. He says that acts of humanity and judgment-free displays of care have inspired him to paint. Whether his paintings feature flowers or faceless entities, the real subject of his artwork are his feelings of gratitude and hope, his love of life and his appreciation for acts of goodness. Lexington works with different media and techniques to bring his inspirations to life, with the aim of spreading gratitude and hope to others in this world.
Statement
I started painting over 20 years ago. Because of my disabilities, I wasn't able to work or attend university. I had the grades to be accepted, but it wasn't possible. I have autism and epilepsy. I started painting to keep me occupied. I didn't think it would ever turn into something as big as it did.
My paintings have been included in several magazines and gallery exhibitions. My work has shown in James Gray Gallery in Bergamot Station as well as ArtWe (also in Bergamot Station) and on ArtLA.com (an online gallery started by the owners of James Gray Gallery.
I am now working out of Tierra Del Sol Studios, in Sunland, CA where I feel at home with my artist colleagues and instructors. They know how to work with special needs and are very caring at Tierra Del Sol.
I have different ways that not many understand. I have trouble knowing and understanding my feelings and thoughts. Artwork has been a window into how I feel, see the world and what is inside that I can't express. I never know what I'm going to paint until it's finished. My work comes from a place that is not connected to my mind. It comes from my soul. My subconscious. My work shows me who I am and sometimes depicts what I experience.
My life has been very hard because of the misunderstandings about autism. Misdiagnosed for many years came with a lot of hardship. I don't make sense to people, both in my behaviors and how I express myself at times. I feel like I live in another dimension that is incongruent to others around me, making it difficult to impossible to interact with them. However, I don't see autism as a deficiency. There's a lot of abilities that come with autism than people could ever imagine.
I'm also transgender. Since my transition, my work has changed a lot. Now that my outer self matches my inner self, I am more able to express without as much hesitation. Everything is new to me. You really can't experience life fully when you are trying to be something other than what and who you really are. My paintings are much more flowing then they used to be.
I hope my paintings reach deeply into the viewer, speaking to their heart and showing them that there is much depth and feeling in someone who seems very different on the outside. Artwork is one way I'm able to transcend beyond that thick, blurry, "glass wall" that separates me from others. I hope you see who I am through my work, but also see how much we truly share at the core. I'm more than autistic and transgender. I'm an entire person.
Official Sponsors: Comcast NBCUniversal, Happy Hippie Foundation, & Tito's Handmade Vodka
Supporting Sponsors: Angel City FC together with their founding partner Heineken, ADP, Inc, Greater L.A. REALTORS®, & Perrier®
Media Sponsor: The FIGHT Magazine