June 16-17 is the return of
Trans Pride LA 2023

Presented by Angel City FC
This festival has been observed for more than a decade—making it one of the oldest, dedicated celebrations of Transgender Pride in the country lifting trans, non-binary and gender-expansive folks! Spotlighting the Trans*Lounge program as well as other services provided at the Los Angeles LGBT Center, this all-ages, free event expects 2,000+ attendees over two days. TPLA features a resource fair, local market vendors, a local food vendor, a fashion show, workshops, live art, stage performances, as well as a variety of other activities.
Follow us on Instagram: @transpride.la
Friday June 16: Trans Town Hall
5-9 pm (doors open at 4:30 pm)
The Renberg Theatre – The Village at Ed Gould Plaza. Overflow area available.
This year, Trans Pride LA has taken on a very specific urgency. With over 400 pieces of anti-trans and anti-LGBTQ+ legislation in our country, we are seeing a dramatic escalation of transphobic rhetoric—some of it calling for drastic measures, including the removal of children from their parents' care, and the criminalization of transgender health care. Featuring appearances by Montana state Rep. Zooey Zephyr, Raquel Willis, Laith Ashley, and many more!
On the heels of the Center's epic Easter Sunday Drag March demonstration, we are hosting the inaugural Trans Town Hall on the afternoon of June 16:
Mixer and Welcome Reception – Enjoy refreshments before a slate of powerhouse panelists.
Panel Conversations – Three hours of programming, where we engage national and local activists, the Center's health providers and frontline staff, and nationally renowned transgender figures in conversations that tackle this crisis head-on.
Dynamic Performances – Drag all-stars, choral ensembles and voguing legends to grace the stage!
Stay tuned as the full roster of participants and performers are announced by Friday, June 9!
Saturday June 17: Trans Pride Festival
12-6 pm
Children & Families Activity Area – Supervised activities and several featured children's workshops for the duration of the event.
Live Performance & Entertainment -Fashion Show featuring Mars Wright, Armani Dae, Gloria Sanchez Designs, Briannah Jayde Collection, Lucky Jackson – Love Sex Death. Magic Show from Day Mori. Live Music from Sherlock Moosakhanian, Max Figueroa, Mahogani, Cecilia Martinez, Trans Chorus of Los Angeles, Nu Diamond.
7 Educational Workshops – Advocacy 101, Queers Connect by Venus In Aquarius Events, Creación De Espacios Seguros Desde Una Perspectiva Holística (En Español), Resilience Through Art, Kinkables – Affordable Household Kink, Revolting Gender: Sex and Playing with Gender, Self Defence Workshop.
10+ Market & Shopping Vendors – Arpa Akbari, Austie Cosmetics, Chris Bellaver, Flux Identity, GenderRogue Jewelry, misewdesigns, RADDICUS FINCH, Starbucks Pride Network , Pansy Esthetics , Factory Rejects (Cordi), Tarot by Rafaella, Tarot by Ruth, Yaisel Gomez – Tucking Underwear
Free Food from Nopal Taqueria
19+ Community Health, Wellness, Mutual Aid and Resource Partners – ADP, Cedars Sinai , JusticeLA , Blue Shield, APAIT, Los Angeles LGBT Center Departments: Children, Youth & Family Services, Legal Services, Human Resources, Center South, Policy, Trans Wellness Center. Gender Justice LA, Gender Wellness, Genesis @ Human Rights Campaign, Founders MCC, Harm Reduction Division at Department of Human Services, Community Programs, ACLU, Trans Latina Coalition, Pacific Western Bank, TrueVoice, St. John's Community Health, STOP team – Mental Health, Unique Woman's Coalition (UWC), Yitty.
Free parking at the Los Angeles LGBT Center's Anita May Rosenstein Campus.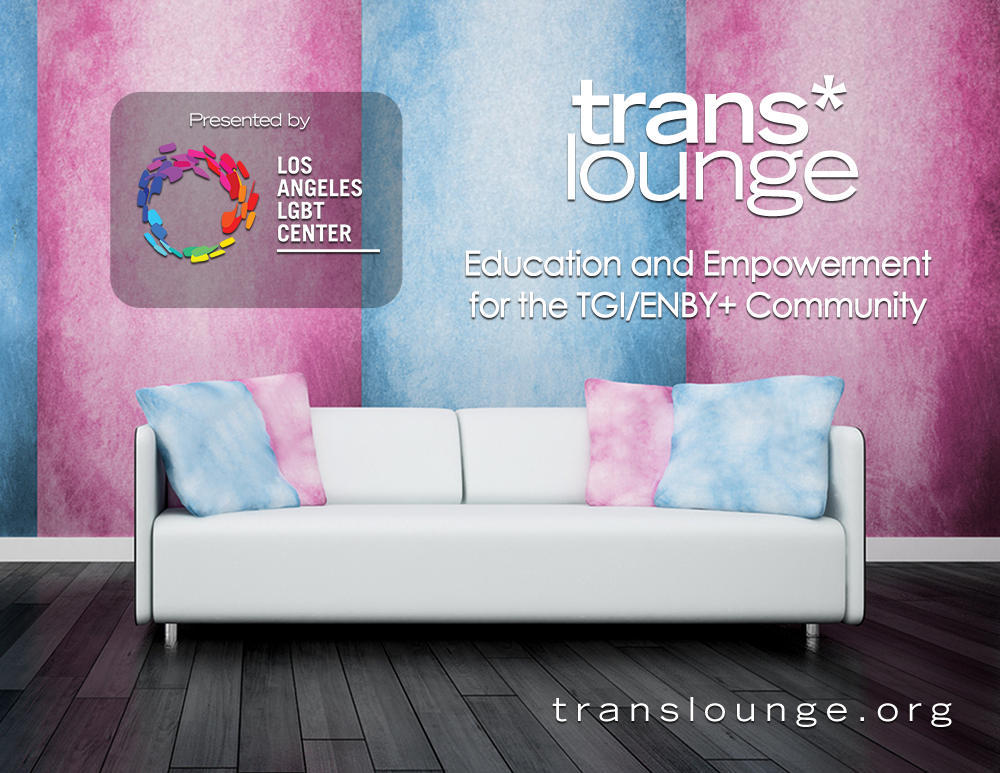 If you identify as TGI/ENBY+ and gender expansive and are looking for community all year round check us out at Trans* Lounge! Like everything we do is always completely FREE!
Trans Pride Los Angeles is hosted by the Trans* Lounge program, the Los Angeles LGBT Center's groundbreaking education & empowerment program dedicated to serving Los Angeles' trans and gender expansive community.
Anyone who identifies as TGI/ENBY+ (Trans, Gender Non-Conforming, Intersex, Non-Binary) and all gender expansive identities, are welcome to become a member of Trans* Lounge. It's FREE to join and once you are a member, all of our programs (workshops, labs, groups and events) are always free as well!
Presenting Sponsor: Angel City FC
Official Sponsors: Comcast NBCUniversal & Telemundo, Tito's Handmade Vodka, & YITTY
Supporting Sponsors: ADP®,  Greater Los Angeles REALTORS® Charitable Foundation , Happy Hippie Foundation, Kipling, & Pacific Western Bank
Official Airline Partner: American Airlines