3:30-5 p.m. Panel: Non-Binary & Genderqueer: An Expanding Awareness of Gender Identities
With the continuing understanding and acceptance of the transgender experience, there is also expansion! Non-Binary (ENBY), Gender Non-Conforming (GNC), Genderfluid, Genderqueer, Bigender, Agender, Gender-Expansive and Two-Spirit, are just some of the identities with increasing visibility in the Trans community. This panel takes the space to hear more from these members of our community, about their experiences, and how they relate to our community at large. Please join us to hear and interact with leaders in our community as they share their truth!
Please note you will have to have Zoom installed to join the Community Forum. Visit zoom.us/download to download the player.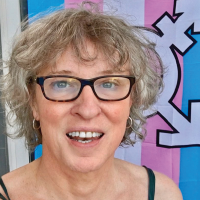 ORGANIZER
Alison Whiteacre (she/her) is a Transfeminine certified professional life purpose and transition coach specializing in helping people with alternative lifestyles, gender identities and sexual orientations live their most purposeful, productive and authentic lives. She is a prolific composer, singer/songwriter, producer and music publisher as well as the co-founder of TransKind Los Angeles. TKLA is a private Facebook social and support hub for sharing connections, information and community events through in person and now virtual get togethers. TransKind is exclusively for transgender, non-binary and GNC people who live in Los Angeles. This is her third year hosting our Trans Pride Non-binary Panel.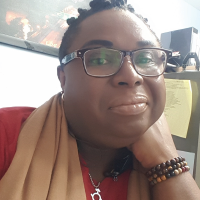 MODERATOR
MJ Brown/Miss Barbie-Q (they/them/she/hers) – is a Drag Performance Artist/Event Host/Storyteller/Panelist/Activist/Actor/Curator/Writer. They've been in the entertainment for over two decades and identify as a Trans Femme Non Binary. This is their fourth time moderating this panel for Trans Pride and they have been a panelist for the 2019 Outfest Trans Summit and This Way Out. They are a board member of the LA LGBT Arts Alliance and Gender Justice LA. They have been on committees for the TDOR and TGI Advocacy. They have hosted many events with organizations, including ONE Archives and AIDS/LifeCycle. Website: https://about.me/missbarbieqla IG: MissBarbieQLA Facebook Fan Page: @BarbieQLA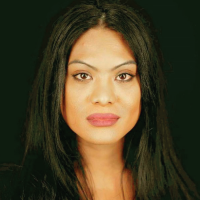 PANELIST
Gia Ryan (she/her/they/them) Through the Dept. Of Public Health, Gia is an advocate for the well-being and needs of the TGNC community. Also, Gia works as Reentry Counselor responding to those in the LGBTQI2-S community who are impacted by incarceration. Serving with the Transgender Service Provider Network and the LA Transgender Advisory Council, Gia hope's to actively create progressive & inclusive change in policy for Trans & Gender Non-Conforming identities. For Gia, focus on proper Gender Affirming care is of the utmost importance. Along with a background in care for foster children, Alzheimer's patients, and Trans Identifying people, Gia is additionally involved with the Trans Chorus of LA and continues to support Trans Art with an emphasis on Taking Back Our Power advocacy.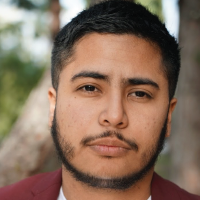 PANELIST
Ethan Patrón (he/him/they/them) Ethan is a 30-year-old non-binary educator, LGBTQ+ advocate, and community organizer in Los Angeles who was born in Lima, Peru. Ethan came out as transgender in 2013 and began his medical transition soon after, building his confidence and self-esteem. Since then, Ethan has served as the Patient Advocate and the Intake Coordinator for the Transgender Health Program at St. John's Well Child & Family Center in Los Angeles, and now as the Administrative Specialist for UCLA's Gender Health Program. In these roles, Ethan has supported, empowered, and advocated for transgender and non-binary people navigating healthcare settings, insurance coverage, and access to hormones and gender-affirming surgeries. He has also trained and educated insurance companies, medical care professionals, and other service providers on medical transition and the urgency in supporting transgender and non-binary patients.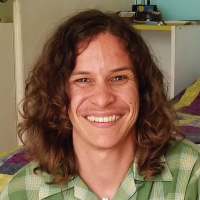 PANELIST
Ash Nichols (they/them) is a queer non-binary trans human, who spends their days gathering stories and facilitating other groups of humans. Ash has been a theatre and performance artist over the past decade throughout California. Ash has been a producer and manager specializing in new works, community-engaged projects, installations, non-traditional and other weird art things that defy categorization. Ash is fond of nurturing, instigating, and challenging redefinitions of masculinitinities in the world, both as their own person, and through more official avenues. Ash currently works with Trans* Lounge, and proud to be a part of making workshops, groups and classes accessible to their community.
Presenting Sponsor of Trans Pride L.A. is OneWest Bank Official Sponsor is Happy Hippie Foundation Supporting Sponsors are Gilead, Google, and NYX Professional Makeup Media Sponsor is The Fight Magazine